Just an update on my last post Butterfly vs. Bt. Luckily, Daphne from Daphne's Dandelions saved us all from the misinformation on Wikipedia.
Unbeknownst to me, there are three main strains of Bt used to target specific pests. Bt is not a broad-spectrum pesticide. Information about the three strains and their specific targets can be found on the Colorado State University Extension Website site.
The most commonly used strain is Kurstaki,which targets caterpillars, including cabbage worms, tent caterpillars and leaf rollers.  It is sold under the trade names Biobit, Dipel, MVP, Steward, Thuricide.
Mosquitoes and flies are treated with a separate strain Israelensis.
The third and fourth strains San diego/tenebrionis target beetles, like the Colorado Potato Beetle and others.
Check the ColoState page for more in depth info.
Sorry to scare you all. Bt is a safe pesticide, especially when compared with the alternatives.
Sheesh, I'd better stop using Wikipedia as the be all, end all. It certainly isn't.
Thank you for clearing that up Daphne!
Yesterday I was hoping to share some photos of my garden, the first in a weekly series, but it rained all day. Instead of going outside, I started a rainy day project. My most hated pests inspired by recent comments on garden pestilence and by another hobby of mine, origami, which I never have an excuse to mention on this blog. Bugs and origami have nothing to do with one another except for Robert Lang. I am a huge fan of Robert Lang, one of the premier origami artists, specializing in extremely realistic, animals, insects, mammals, and sea creatures. Do check out his galley. Mind-blowing!
Anyway, this is what I came up with. Four Godzilla style bugs of freakish proportions!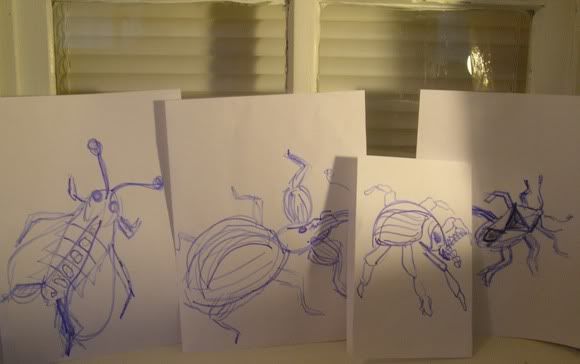 Here are the rough sketches I made after looking at various photos of these bugs. Left to right. Squash vine borer, EEEEWW! Boll Weevil, AAAAAAAH!!!, Colorado Potato beetle, Bleug!!! and Squash vine borer, Blech!!!
While raiding the burn box for newspaper and cardboard I found two of these perfectly bug-shaped cardboard thingy doodles! How lucky!!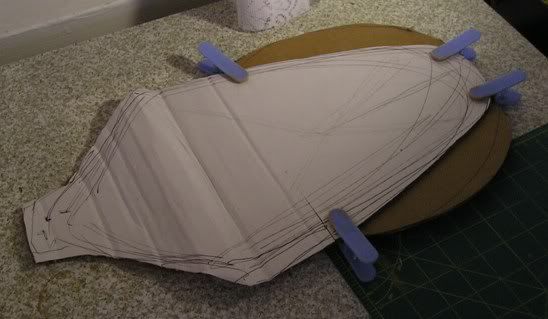 I started by cutting out cardboard forms shaped like the general "footprint" or outline of the body. Above is the squash bug armor.
Colorado potato beetle. One big ball of newspaper with two smaller protrusions for the head. Simple!
The boll weevil. This one may be my favorite so far. Not sure about these legs, so I slept on it and will try some reinforcements today.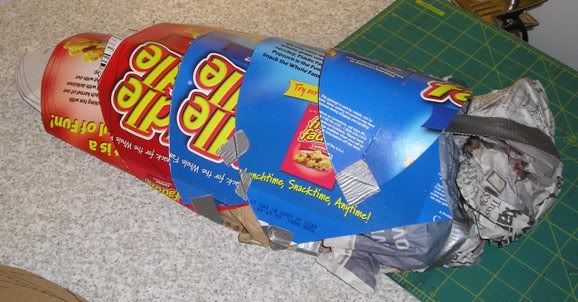 Squash vine borer without wings. I love the shingled body!! It went together quite easily with lightweight cereal box cardboard from caramel popcorn.
And with wings. Can you tell I am having fun?!