Where for art thou, spring
Only six weeks ago the world outside was covered with snow and ice with more layers of ice and snow on top of that. Temperatures have consistently been 10 degrees below average. Now that it has warmed up the temperamental  spring weather has set in. Read, thunderstorms, hail, 25-mile-an-hour winds, and a threat for tornadoes.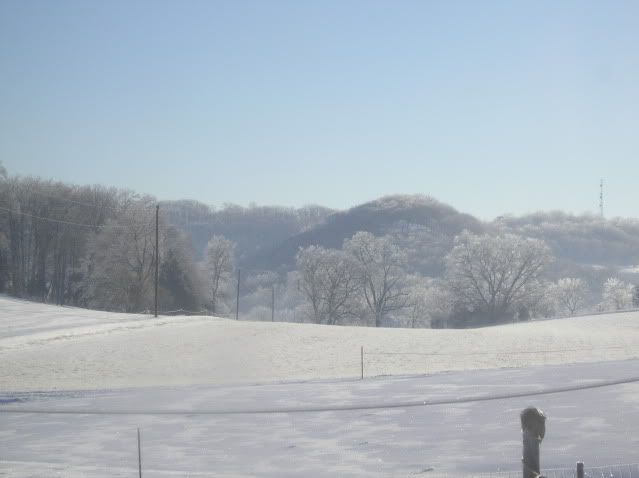 By mid January local schools had run out of snow days…..I have to laugh becuase they shut down when it's cold and they let drivers decide whether they want to go out or not. But that's another story. The only good part about an ice storm is it's beautiful, if only for a few hours before they sun begins melting it off, drip by drip. In the Northeast you are expected to drive  in 6+ inches on snow, but here that's nearly impossible, mostly becuase they don't have the type of road crews like in the NE. I saw one ice truck and it went by three days after the storm when the road was already clear. Oy.
I've already been planting peas, but I fear it's too cold. On the bright side the lawn is definitely turning green from the spring rains and it won't be long now.
Here's what's happening at CasaLiz. The frigid-looking pansies are flowering more and more, buds are swelling — leaves ready to bust out. Bulbs are coming up all over the place. Somewhere I expected, others in more surprising locations. Jumping-Jimminy, it's exciting.
What's been happening in your gardens?
9 Responses
Not a whole lot yet, but we are getting there. I have been thinking about planting peas as well. It's about time!

~Faith

Ugh, it's time for all the evil prep work, eh…..I'm tired of waiting to plant my peas. I suppose your weather is a little worse on the plateau, never the less, it's can't be long now. Thanks for stopping by, Faith.

Well, its good to see you back online!

Thanks, Gururaj!

Ha, I agree with Gururaj! Even up here, spring is starting to burst out, with snowdrops, winter aconites, crocuses, and hellebores in bloom, and the strong emergence of daffodil shoots promising a bigger show to come. It's such a relief to see a snow-free lawn, I can't tell you. (Though I admit your snow shot is fabulous.) Good to see you back online!!!

Thank you. It's good to be back. Ah, the first time seeing the lawn! It is a relief. The arrival of the crocuses and all the late winter flowers is such a good sight! The ball is rolling.

Hello! Glad to hear about you and the garden. The school/driver situation is fascianting here in TN~It's funny now that we no longer have a kid in school! Your snowy photo is beautiful~I liked the few days we had with a snow covered garden~but really like the spring show that's going to happen soon. gail


You're so right Gail, it like you can see it happening minute by minute. I love the sound of the ground sucking in the Spring rain. The bus/school thing really is hysterical. Especially to a Northerner. It's good to see you again, Gail. Thanks for stopping by!

Welcome back! I missed you!

I planted my peas about one week ago and am wondering where they are. I hope it is not too early but we'll see. Spring is near.

I missed you too, Tina! I good to see you again. I'm sure I planted mine to early. I just couldn't wait. I'll be planting more until some finally come up. This is awfully exciting.

Well, it must be spring if Liz is posting again! To echo the others, I've missed you! I'm starting stuff in the school greenhouse this week, but hope to move outside very soon.

I don't mind driving in the rain, but i'm a total snow wimp and will do anything to avoid it. Hope we've seen the last of it, but I think it will be awhile before we have any blooms to speak of.


Awww, Jen, you're so sweet! It's so good to be back and I surely missed you too. That's cool that you get to use the school greenhouse, what a perk!! we're right the rain isn't so bad, especially when it's the difference between drought and not. Thanks for stopping by!

The ice makes a beautiful work of art but so dangerous. We had one freak ice storm in our area of GA and we have lived here for 10 years. So that was really a rare thing but it was beautiful. We lost some trees, the power lines to the house thus the power for 2 days. Good thing we know how to camp as we survived the storm with our camping skills and equipment. Firewood in the fireplace kept us warm. Glad that spring is showing up for you…

Oh my, Skeeter that sounds frightening. At least you had back up heat though! SO scary. It's pretty to look at, but only from inside a warm house. Thanks for stopping by.

Thanks for popping over to my blog. Enjoyed visiting yours. Like you I am really looking forward to spring starting

Thank you for stopping by, Helen. It can't be long now.

Beautiful photo. And fun quilt-like presentation of your other photos. Thank you for visiting me today.

I'm going to have to check out your quilts!

Thanks, Shady. It was lovely visiting your blog and thanks for returning the favor.